Council's 2020 AGM was to have been held in Temora on April 4th, due to the COVID-19 restrictions this was postponed to October 24th. Council has now determined (July 10 2020) that postponing the AGM till 2021 is an appropriate action at this time. This decision was taken after careful consideration, and in consultation with the venues and our hosts. We considered our community's concerns regarding Covid, travel and other circumstances, and were mindful of our responsibility for the health and safety of our Delegates, members and their families, our guests, hosts and their staff.
Affiliated Clubs have, as usual, been kept informed of all important matters relating to historic and classic motoring that the CHMC Committee is aware of, by email, phone and post. It is, as ever, vital that the CHMC Secretary has the current contact details for your Club's Secretary, President and Editor as we rely on those forms of communication to your clubs in between Council meetings.
Enquiries: The Secretary, CHMC. Mobile 0418235797 Email:secretarychmc@gmail.com
Information from NSW Fair Trading concerning incorporated associations holding their annual general meeting under prevailing pandemic conditions. Fair Trading administers the Associations Incorporations Act 2009 under which incorporated associations are registered and regulated in NSW.
Incorporated associations are required to hold an annual general meeting within 6 months after the end of its financial year. The Association must then lodge an Annual summary of financial affairs with Fair Trading within 1 month of the AGM (and no later than 7 months after the end of the financial year).
Due to continuing changes relating to COVID-19 restrictions Fair Trading has determined that associations registered under the Act will now not be required to formally request an extension of time for holding its 2020 AGM or submitting its Annual summary of financial affairs.
In the current COVID-19 circumstances Fair Trading will not take any compliance action where an association is unable to meet its statutory obligations in holding an AGM and undertaking its financial reporting. This of course will not apply to circumstances not related to COVID-19 restrictions and where there are concerns of wrongdoing or misconduct.
In the event the restrictions are lifted later this year or in 2021 Fair Trading would expect all associations to take appropriate steps to meet their statutory obligations either by conducting its 2020 AGM when it holds its 2021 AGM; or in the case of an individual association where it may need to conduct its 2020 AGM at an earlier time it does so as soon as practicable.
However, the Act does make provision for associations to hold its meetings in 2 or more venues. To have this capacity an association must have suitable clauses in its constitution where it may conduct meetings by telephone conferencing, skype and other real-time web-based apps. The requirement for such meetings is that members can reasonably participate in the meeting in real time.
The Model Constitution permits committee meetings and general meetings (including the AGM) to be held at two or more venues using technology which meets the above requirement. Any association that has adopted the model constitution is able hold its meetings in this manner.
THE 2019 GENERAL MEETING (1/2 YEARLY) OF THE COUNCIL WAS HELD AT NEWCASTLE ON SATURDAY 26TH OCTOBER, 2019
The meeting commenced with a presentation by RMS senior staff on the Log Book Review, HVS vehicle compliance, RMS website updates, including their new newsletter fort the historic and classic vehicle sectors. Council's collaborative partnership with the RMS was highlighted with details that CHMC clubs had played a particularly strong role in the Log Book Review process with not only major representation in the online survey but also in the Focus group meetings. (Particularly significant when one considers the distances most of our club's representatives had to travel for those meetings)
The HVS compliance information discussed by the RMS staff at the General Meeting will be made available to CHMC clubs as soon as it is cleared for publication by the RMS.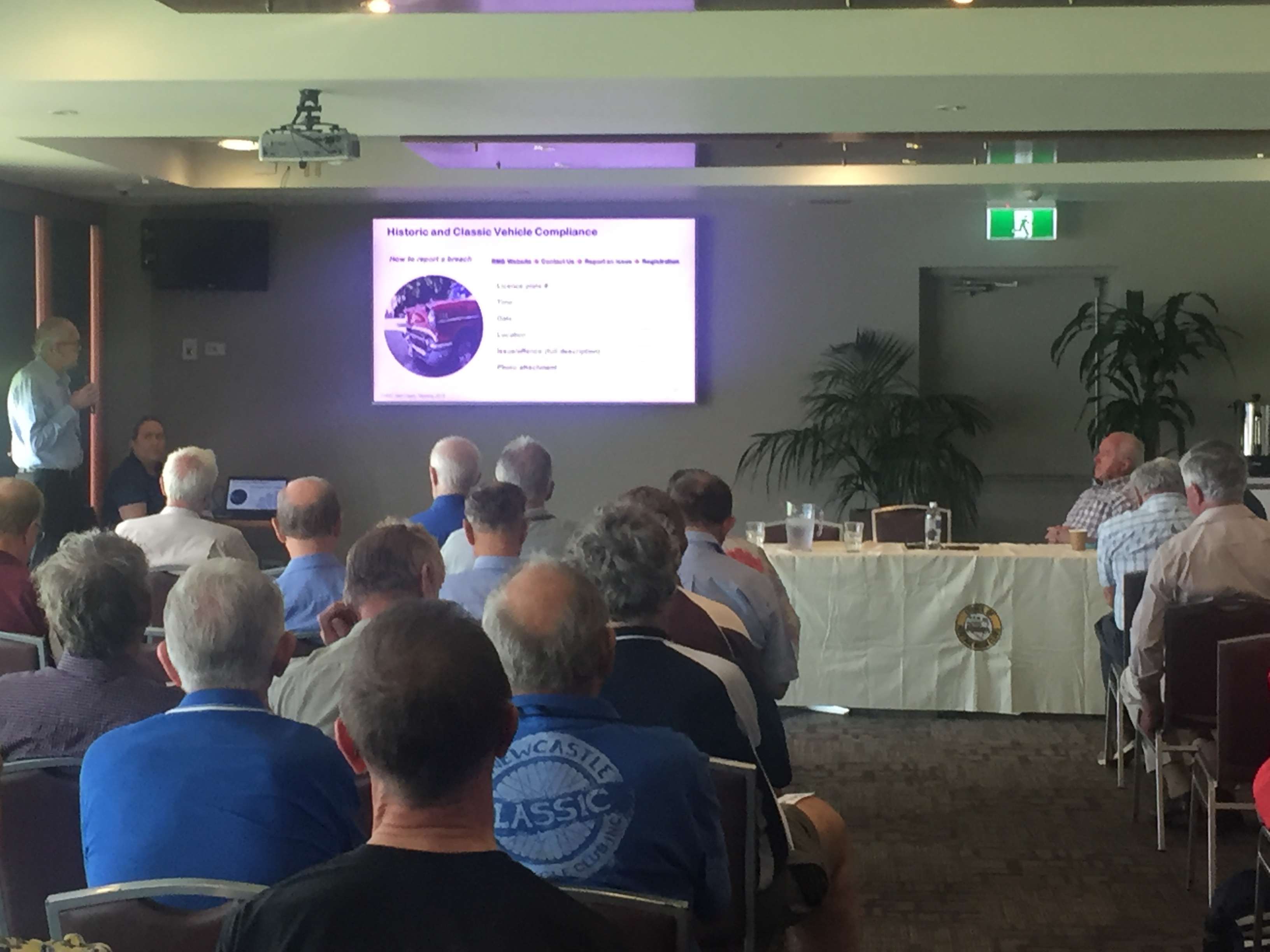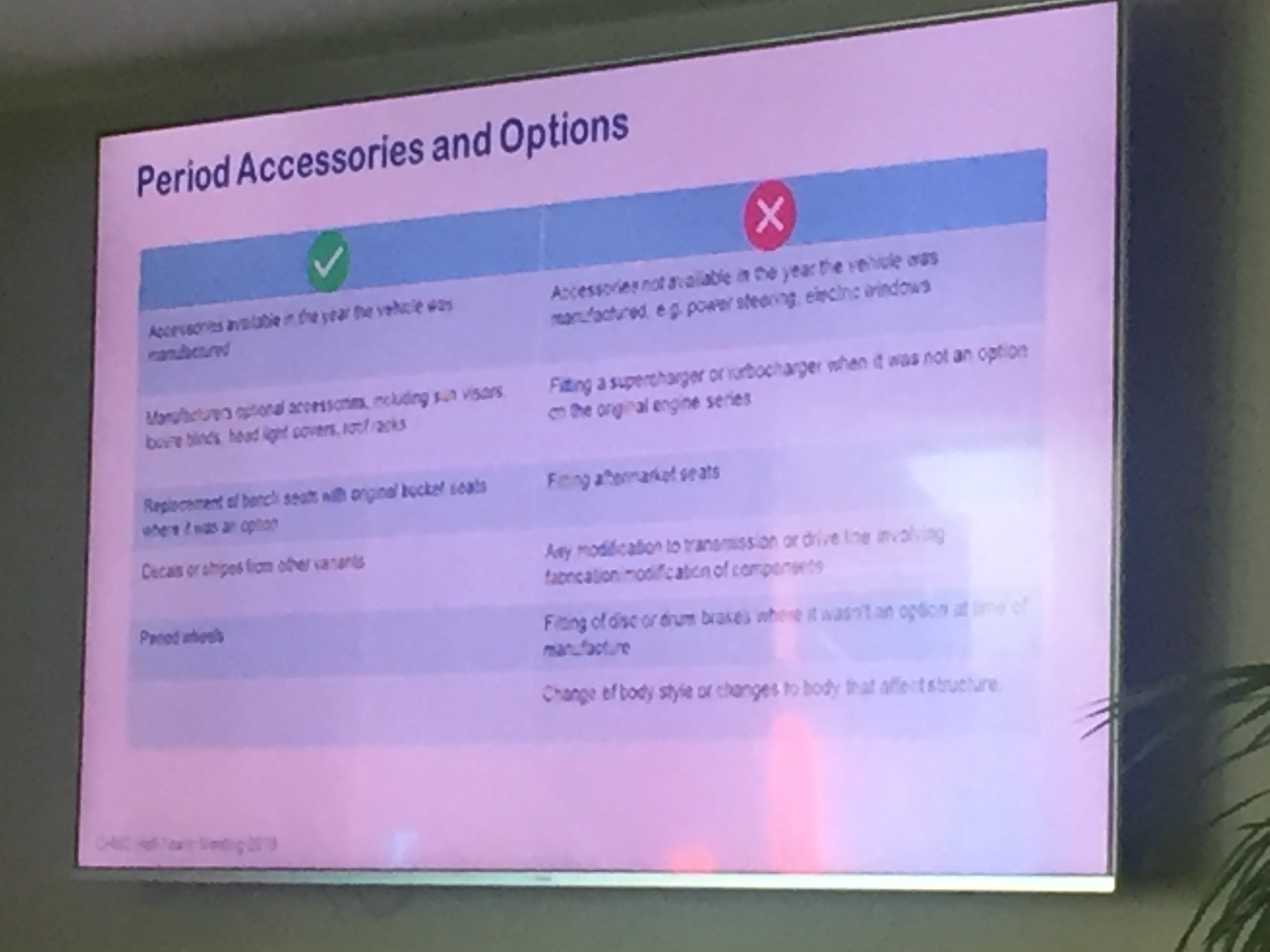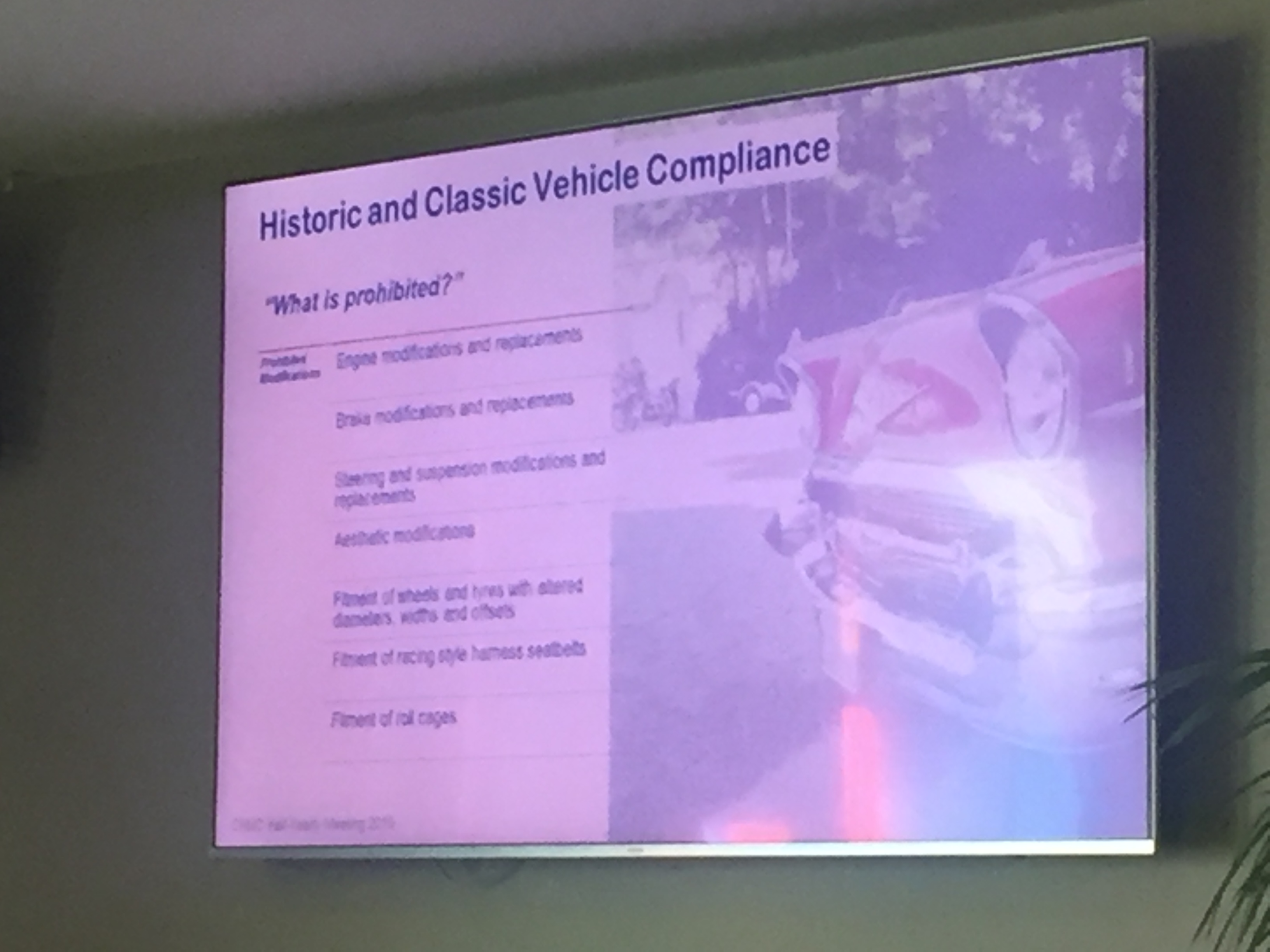 The Meeting then moved on to the Committee Reports, Rally Updates, including the AHMF 2020, and discussion about the CHMC's 50th Anniversary celebration weekend in October 2020. Delegates were also asked to have their clubs consider hosting Council's 2021 Annual Rally (CHMC's Annual Rally, aka The Bush Council Rally, will not be held in 2020 owing to the AHMF's Festival of Motoring in Albury).
Council's Club Governance and Information workshops for 2020 were announced, these will be held in various regions of the State and details will be advised to clubs in the new year as venues are finalised with the hosting clubs.
Delegates unanimously supported the Committee's recommendation that $1,000 be donated to the CWA NSW's Disaster Relief Fund for drought aid.

Minutes of the General Meeting have been distributed to all CHMC.
2019 ANNUAL GENERAL MEETING OF THE CHMC WAS HELD IN GRIFFITH ON

MAY 17TH 2019
2019 AGM MINUTES and Attachments have been distributed to all CHMC Clubs. A summary can be downloaded below.