CHMC CLUBS
Council affiliated Clubs are located throughout New South Wales. These Clubs welcome enquiries for membership or information regarding heritage and historic vehicles, especially in their local areas. They organise regular driving tours, displays and community events. Each Club manages its own membership and facilitates Conditional Vehicle Registrations - either HVS with the RMS or CVS through CHMC.
Below are cities and towns where CHMC clubs are located or located nearby. NOTE there may be more than one Council affiliated club in some locations.
ALBURY
ARMIDALE
BALLINA
BATHURST
BEGA
BOOLAROO
BROKEN HILL
CANBERRA
CARDIFF
CESSNOCK
COFFS HARBOUR
CONDOBOLIN
COONABARABRAN
COOTAMUNDRA
COROWA
COWRA
DARETON
DENILIQUIN
DUBBO
DUNGOG
FINLEY
FORBES
GERRINGONG
GOSFORD
GOULBURN
GRAFTON
GRENFELL
GRIFFITH
GUNNEDAH
GUNDAGAI
INVERELL
KEMBLA GRANGE
KEMPSEY
LEETON
LITHGOW
LISMORE
MAITLAND
MILDURA
MITTAGONG
MOREE
MORUYA
MOSS VALE
MUDGEE
MURWILLUMBAH
NARRABRI
NEW LAMBTON
NEWCASTLE
ORANGE
OURIMBAH
PARKES
PICTON
PORTLAND
PORT MACQUARIE
QUEANBEYAN
SHELL HARBOUR
SYDNEY
TAMWORTH
TAREE
TEMORA
TENTERFIELD
TUMUT
WAGGA WAGGA
WALLSEND
WODONGA
WOLLONGONG
YASS
YOUNG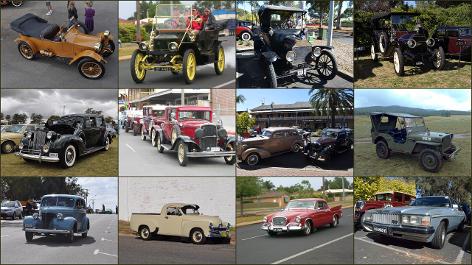 CLUB Contact Details
Downloadable Club List below
n.b. not all CHMC Clubs are listed on the downloadable document as some clubs use member's personal email and mail boxes. We respect the privacy of individual club members by not publishing those contact details online – if you wish to contact a CHMC Club not listed here please email the CHMC Secretary for details using our Contact Form at http://www.heritagemotoringcouncil.org.au/contact.php
Is your CLUB interested in joining the CHMC?
Membership enquiries are welcome from heritage and historic vehicle and machinery clubs in NSW whose goals include the preservation of vehicles more than 30 years old, whose objectives are compatible with those of the CHMC, and whose membership are owners of heritage or historic vehicles or road-going machinery.
WHY JOIN theCHMC?
CHMC actively and very successfully represents heritage, historic and classic vehicle clubs to State and Commonwealth departments, other organisations and businesses in matters concerning the operation and preservation of Club member's vehicles.
CHMC's negotiations with those deparments and groups reflect the majority view of it's member clubs on such matters as vehicle registration schemes, vehicle safety, fuels and automotive transport history and heritage.
CHMC is well respected, credible and trusted by its membership, by government agencies, from the most senior staff to regional offices, and by other stakeholders in the heritage and historic vehicle sector across Australia.
CHMC is an energetic and long-time member of the national peak body the Australian Historic Motoring Federation.
If your club is interested in CHMC membership contact the

CHMC REGISTRAR

for a membership information package.