NEWS - scroll down

NEWEST ITEMS FIRST
LOG BOOK TRIAL REVIEW
Update June 8th 2109 The Log Book Review Survey has finally been approved by the RMS for distribution to Historic Vehicle Clubs. The delay in its distribution has been with the RMS, we have been communicating with our clubs in good faith and ASAP with all the information RMS has provided us.
The survey link will be distributed via email to the address that the peak bodies have provided to the RMS next Tuesday 11th June. The RMS has indicated their intention to track these emails to identify how many recipients have opened and clicked through the survey link, as well as any emails that bounce. A letter will also be sent to all 1058 clubs on Wednesday 12th and Thursday 13th June.
The RMS has advised that the Survey will now close on Friday 28th June.
RMS Log Book Trial Focus Group Sessions are still scheduled to go ahead on the third week of June, however, the external consultant to run these has still not commenced. Consequently session dates and times have not been able to be locked in. I will advise those from CHMC clubs who put their name forward for these sessions as soon as I receive updated details from the RMS
The CHMC Committee urges all our affiliated clubs to carefully consider the survey and to respond by the closing date. This, along with participation in the Focus Group Sessions is our opportunity to make our voice heard. Peter Wright, RMS Liaison for CHMC. Ph. 0417250798
Update June 5th 2019 - RMS ADVISED THAT "OUR SURVEY IS READY FOR DISTRIBUTION, HOWEVER IT NEEDS FINAL INTERNAL APPROVALS BEFORE DISTRIBUTION".
June 4th 2019 - The RMS is undertaking a review of the Log Book Trial (the Trial was due to end in September 2019). Clubs and their members have two opportunities to provide the RMS with input and viewpoints on the Log Book system. Part of the Review will be discussions with Focus Groups in sessions to be held in Parramatta week commencing June 17th. For these sessions the RMS asked CHMC to nominate up to forty participants from its Affiliated clubs. The request for attendee names was sent to all CHMC clubs by email or post on May 23rd 2019 and very quickly our RMS Liaison Officer Peter Wright had a full list of names. Considering the journey from across the State that most from our clubs will have to make to attend the Focus Groups this was a very pleasing result, specially as the RMS gave us only a short time to advise clubs.
A second element to the Review will be an online Survey that will be emailed direct to clubs by the RMS. We were told by the RMS at an Historic and Classic Car Industry Working Group on Wednesday May 29th that this would be sent to all clubs on the HVS Approved List etc. on June 3rd – so watch your club emails carefully and respond ASAP as the Survey is to be completed by Friday 21st June.
The survey is for clubs to respond to, not individual members. Details of the Survey were sent to all CHMC Affiliated Clubs in the "Dinkum Oil" on Friday May 31st – your Club Secretary should have this to hand.
June 5 2019 RMS HISTORIC VEHICLE CONDITIONAL REGISTRATION FORMS CAN NOW BE COMPLETED DIGITALLY
An outcome of the Historic and Classic Car Industry Working Group* meeting with the RMS on May 29 2019 has been an upgrade to the online Historic Vehicle Declaration Form No. 1259.
The RMS agreed to format the online Form so that it can be completed digitally for renewals and new registrations. The Form can be downloaded from the RMS website and now filled in with Adobe Reader or similar PDF reader.
Note:
• These forms cannot be saved once edited. They are designed to be completed digitally, printed, and then signed by the registrant.
• Once signed, the form can be submitted through one of the options listed on the fact sheets to establish a new conditional registration and renew a conditional registration.
• The form must be submitted as an original. Photocopies will not be accepted by the RMS.
The forms relevant to HVS or CVS are:
• Historic Vehicle Declaration (1259)
• Application for Conditional Registration (1246)
• Vehicle Suitable for Safe Use Declaration (1245)
• Classic Vehicle Declaration (1835)
*CHMC is a member of the RMS's Historic and Classic Car Industry Working Group.
June 5th 2019 LATEST EDITION OF CHMC's Newsletter BUSH TELEGRAPH - Issue 76 JUNE 2019 is available online. Contents:• GRIFFITH – CHMC ANNUAL RALLY 2019 • GOING ELECTRIC, CON-FUSED • CHARABANC – early motoring for the many
NOTES FROM MEETING BETWEEN CHMC & RMS POLICY SECTION, 18.12.2018 @ RMS, OCTAGON BUILDING, PARRAMATTA
CHMC publishes the notes from our December 2018 meeting with the agreement of the RMS Directorate.
CHMC hopes that, by our example, all other NSW historic and classic motoring groups will be encouraged to be similarly transparent and forthright in making available publicly their discussions with RMS for the benefit of all enthusiasts in NSW. Online access to meeting notes between the government and historic car clubs representatives in Queensland have proven to be very beneficial to all clubs and members there, assisting in the distribution of authentic and appropriate information.
Youth, women encouraged to join collector car movement
The Federation of Historic Vehicles of India in association with FIVA recently held a symposium to talk about the increasing involvement of youth and women in the preservation, protection and promotion of Historic Vehicles in India. RIVA President Patrtick Rollett said - 'We can learn a great deal from what's happening in India right now, when it comes to attracting young people into the historic vehicle movement.....it's truly heartening to see the groundswell of enthusiasm for historic vehicles among younger Indians – at a time when European enthusiasts are worried that classics will increasingly be seen as something for the older generation."
What key factors were identified as encouraging interest among the young?
Informal groups on social media, who meet at the weekend for casual drives - young enthusiast Souvik Ghose Chaudhuri explained - 'To 'catch them young', it's important to create communities around historic vehicles – non-competitive, fun social events to attract newcomers, such as movie screenings and garage days, plus extensive use of social media and workshops.
Focusing on women as female race and rally driver Farah Vakil, explained - "Women are starting to take the lead in demystifying the classic automobile, seen by many as an untouchable realm of the wealthy and privileged man," Vakil said. "Up till now, Indian women's role in historic vehicle circles has been as the wives and daughters of collectors but that's changing. Women in India today are financially and socially empowered, and we don't need to have classics passed onto us as family heirlooms, as we can acquire them independently – sourcing them abroad, if necessary, and importing them."
Young businesswoman Shana Parmeshwar, who races a Porsche GT3, owns an Austin Seven and a '65 Chevrolet Impala estate, and drives veteran cars spoke about her hobby. She uses the tag line 'Be Cool, Be Classic' to describe the surge of historic vehicle interest among the younger generation.
AHMF UPDATE
CHMC NSW is a long-time and active member of the Australian Historic Motoring Federation, the national peak body for all historic motoring in Australia. To better communicate the important activities and actions of the AHMF to our NSW membership CHMC has added the webpage AHMF UPDATE to its site to provide the most recent information from the AHMF.
AUTOMOTIVE HISTORIANS AUSTRALIA – CONFERENCE 9-10 AUGUST 2019 - rmitMELBOURNE
AUTOMOTIVE HISTORIANS AUSTRALIA INVITE SUBMISSIONS FOR PAPERS FOR THEIR FOURTH CONFERENCE, TITLED 'THE JOY OF MOTORING
For the 2019 conference, AHA welcomes both formal academic papers and less formal presentations, in any format which reflect generally on motoring and automotive culture. They particularly seek contributions that derive from the experience of owning, racing, designing, restoring or building an automobile (or motorcycle), experiences that often rely on tacit knowledge accrued over a long period of time which remains hidden and is never recorded.
CALL FOR PAPERS AND OTHER INFORMATION CAN BE VIEWED AND DOWNLOADED AT THE AHA WEBSITE: http://www.autohistoriansaustralia.org/conference-2019
CHMC FACEBOOK CONNECTS with 1,000s of historic and heritage motoring enthusiasts
Have you looked at CHMC's Facebook Posts and Photos? Thousands of enthusiasts in Australia and overseas regularly do, checking in on the updates and submitting material. Our Facebook Administrator reports that some Posts have over a 2,000 visits within a few hours of uploading.
$200,000 to preserve revolutionary race car
"The race car was built in 1929 by Melbourne brothers, Alan Hawker 'Bob' Chamberlain and Howard Francis 'Bill' Chamberlain. Both engineers, the brothers included a revolutionary engine in the race car which competed in multiple Grands Prix and hill climb events.
The Chamberlain 8 is believed to be the only racing car completely designed and built in Australia without the use of components from other makes. Some unique qualities of the vehicle include the four-wheel independent suspension and 8000 rpm engine. It is one of Australia's most technically advanced and visually appealing race cars of the era. The Chamberlain brothers were among a group of prominent engineers who significantly contributed to Australia's technological and motoring history.
The National Cultural Heritage Account provides support for collecting institutions like the National Motor Museum to acquire important pieces of Australian history to ensure they are kept in the country and enjoyed by the public." .
Media Release from the Commonwealth Department of Communications and the Arts 2018.
NOTES FROM MEETING BETWEEN CHMC & RMS POLICY SECTION, 23.2.2018 @ RMS, OCTAGON BUILDING, PARRAMATTA
CHMC publishes here the notes from our February 2018 meeting with the agreement of the RMS Directorate. CHMC hopes that by our example all other NSW historic and classic motoring groups will be encouraged to be similarly transparent and forthright in making available publicly their discussions with RMS for the benefit of all enthusiasts in NSW. Online access to meeting notes between the government and stakeholder representatives in Queensland have proven to be very beneficial to all clubs and members there, assisting in the distribution of authentic and appropriate information.
May 17 2018 "You can't get full registration for a vehicle over 100 years old!"
Let's get it straight here and now, and this is a direct quote from the RMS Director of Compliance and Regulatory Services - "The RMS system will allow the registration of vehicles where the compliance date is 1900 or later. There has been no change to the system that would prevent the full registration of a vehicle that is more than 100 years old (i.e. has a compliance/manufacture date of 1917 or 1916)." (Email to Ray Ives, President of the Council of Heritage Motor Clubs, 26 April 2018).
Apparently, a rumour that "You can't get full registration for a vehicle over 100 years old" has been rolling around in some veteran and vintage circles for the last few months but when concerned delegates at the April Council of Heritage Motor Club's AGM formally asked Council to investigate the matter was quickly attended to with President Ray Ives raising it directly with the RMS Director.
So, if there's no problem at the RMS what is the real story behind this rumour?
Council made further enquiries and found that for vehicles 100 years or older on full registration Shannons Insurance couldn't process a CTP renewal. To renew the age of a vehicle had to edited on the CTP application by the Shannons operator and then a renewal was issued, although the vehicle is then noted on its CTP as being younger than it is!
Some CHMC Committee members then tested this for themselves in the last few weeks and found that Shannons was indeed unable to accept vehicles over 100 years old for CTP.
NRMA Veteran & Vintage Insurance was also contacted and their Green Slip section said they are unaware of any such issue obstructing their 100 year or older CTP renewals.
The CHMC President then took the matter up with the National CTP executive at Suncorp, as Suncorp operates the software that Shannons and Suncorp's other insurance agencies - GIO, AAMI and APIA use. The executive indicated that Suncorp will update their systems to allow green slip processing for any aged vehicle, but this may take a little time. Meanwhile Suncorp suggest that until this happens for vehicles over 100 years old the declared build date of the vehicle be indicated as less than 100 years. (Not ideal from Council's perspective but works for Suncorp while they correct the system).
It has also been suggested that this issue at Shannons, GIO, APIA and AAMI will need correcting before we roll over into the vintage years at the end of 1919 as there are more heritage vehicles on full registration in the post-1919 era.
At this stage CHMC Committee has taken the matter as far as we can with the relevant agencies, though contact with Suncorp will be maintained to encourage them to expedite a solution.
So, when someone says to you that the RMS has stopped registering cars over 100 years old, tell them "that just isn't so".
2018 CHMC ANNUAL RALLY - NARRABRI
Hosted by the Namoi Valley Antique Vehicle Club members over 90 vintage through to 1980s vehicles were displayed in Narrabri and Wee Waa and toured the sights of the Namoi region including spectacular Mt Kapatur, Santos gas fields, cotton faarms and the delightfully quirky Narrabri Fish Farm. The host Club's members treated entrants to good old-style country hospitality, lots of smiles and laughter, and of course great food. With plenty of good touring roads around Narrabri our heritage and historic vehicles were given ample opportunities to get out and about, and when on public display the local communities were very keen to see the vehicles and chat with their owners. Lots of 2018 Rally photos on the CHMC Facebook page and our website Gallery
EVER WONDERED WHERE YOUR HERITAGE TRANSPORT CLUB IS GOING ? WHO YOU ARE AS AN ORGANISATION AND WHERE YOU WANT TO BE ?
The Federation of Australian Historical Societies has launched the Succession Planning Guide and Workbook for Historical Societies and Community Heritage Groups designed to assist groups to survive and thrive into the future.
The Succession Planning Guide offers solutions to succession challenges. The step by step process helps you evaluate your situation, whether you are facing the challenge of diminishing membership, considering who will be the next President or how you can find that special person to take photographs.
This invaluable resource helps to identify and nurture the best people to achieve society goals over the next two, five or ten years. It helps safeguard the critical work of members and volunteers so that it continues well beyond their involvement with the society.
The Guide and Workbook are available for free on the FAHS website http://www.history.org.au/SuccessionPlanning.html
The workbook can be accessed as a full document or in sections. And the document is Creative Commons licensed so it can be copied and distributed for non-commercial use as long as you attribute the author Dr Bernadette Flynn, Produced by The Federation of Australian Historical, 2017.
Authorised Inspection Scheme Notice 36 Registering vehicles certified under the Engineering Certification Scheme
Effective February 6 2018 the RMS advised Authorised Inspection Scheme (AIS) proprietors and examiners of changes to the registration of modified or Individually Constructed Vehicles (ICVs) certified under the Engineering Certification Scheme (ECS). Notice 36 replaces Notice 35 (see below January 21 2018)
Significantly, owners of Historic and Heritage vehicles should note from the FAQs to Notice 36 - Q."Do all modified vehicles require certification? A. Only vehicles with significant modifications require certification. A list of significant modifications is included
in Vehicle Standards Information Sheet 06"
Further details: Notice 36, 6 Feb 2018 http://www.rms.nsw.gov.au/documents/business-industry/examiners/ais-notice-36.pdf
And its related FAQs http://www.rms.nsw.gov.au/documents/business-industry/examiners/ais-notice-36-faq.pdf

FEBRUARY 12 2018 TAREE HISTORIC MOTOR CLUB LAUNCHES NEW WEBSITE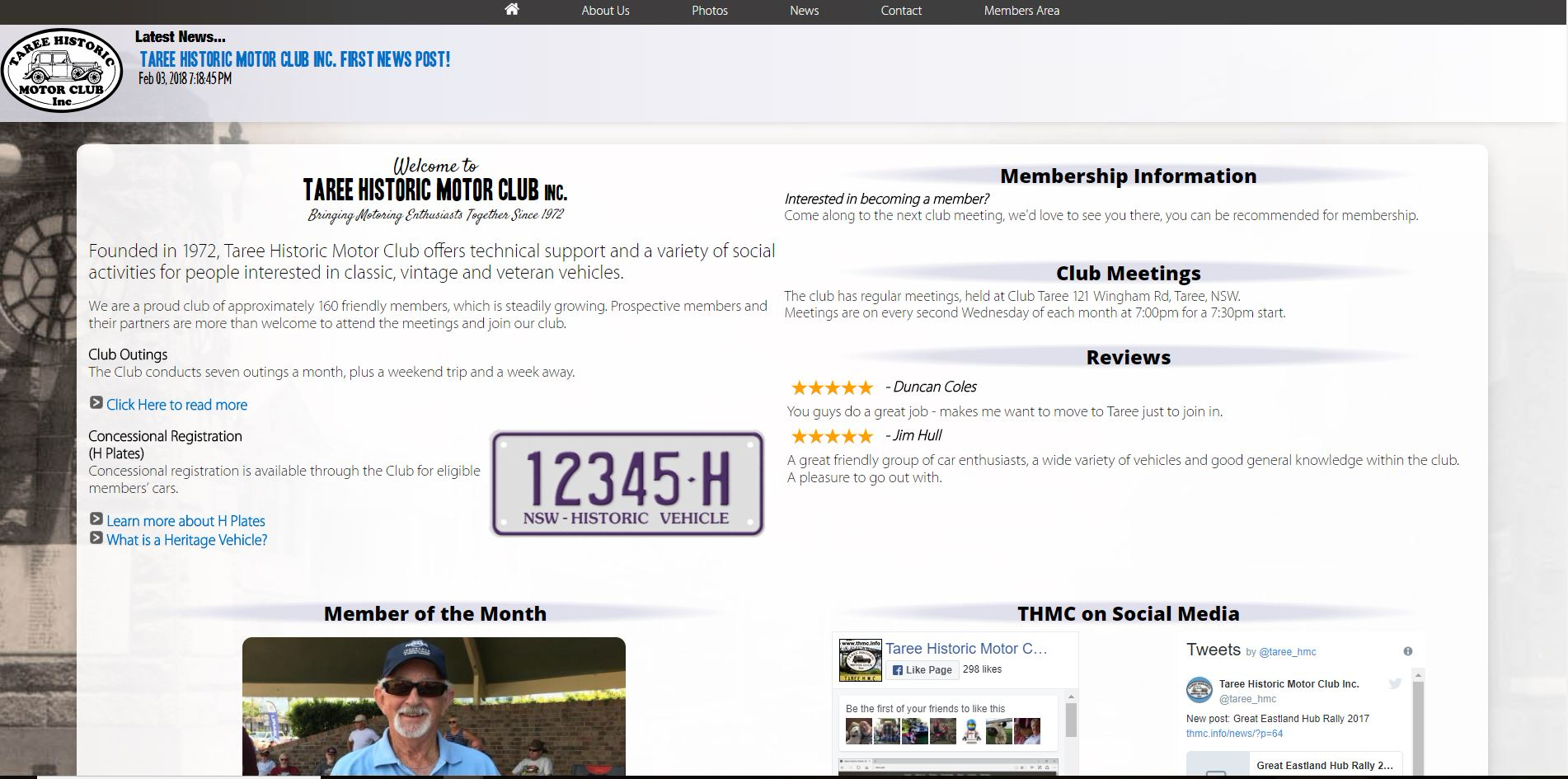 Taree Historic Motor Club members restore, rally and display veteran, vintage and classic motor vehicles - their new website's Photo Gallery includes a great range of their vehicles.
For other CHMC Clubs' websites and Facebook pages see the CHMC CLUBS page for listing under Clubs Contact Details.
February 9 2018

RMS CHANGES TO THE POLICY ON LEFT-HAND DRIVE TO RIGHT-HAND DRIVE CONVERSIONS FOR VEHICLES IN THE HISTORIC VEHICLES SCHEME
Following discussions with the CHMC over concerns that historic vehicles that had been converted to RHD may have to be transferred from the Historic Vehicle Scheme (HVS) to the new Classic Vehicle Scheme (CVS) the Roads and Maritime Service has amended the Historic Vehicle Scheme policy to allow vehicles with a left-hand (LHD) to right-hand drive (RHD) conversion to be registered in the Scheme. An RMS factsheet explains the policy change (download below) and the RMS webpage for Historic Vehicles has been updated to reflect the policy change.
"Vehicles with a left-hand drive to right-hand drive conversion which are currently registered in the Historic Vehicle Scheme may remain in the scheme." Applications for new HVS registrations should "produce certification documentation to support the Historic Vehicle Declaration for a vehicle with a left-hand drive to right-hand drive conversion." RMS18.706
JANUARY 21 2018

NOTICE FROM THE RMS -

WITHDRAWAL OF AIS NOTICE 35 AND AIS NOTICE 35 FAQ
Council has received further information from the RMS concerning Notice 25. An advisory regarding Notice 35 was placed in our News section, ref. January 14, below. RMS has responded to the concerns raised regarding Notice 35 as by retracting Notice 35 and undertaking further discussions, see statement from RMS -
"In December 2017, RMS issued AIS Notice 35 and FAQs. These notices advised we couldn't accept certificates issued under Engineering Certifications Scheme (ECS) when establishing registration for modified or individually constructed vehicles. In response to feedback from our customers about some of the unintended impacts of this change, RMS is working closely with clubs, motoring enthusiasts and other stakeholders to review this policy. Subsequently AIS Notice 35 and the FAQs have been withdrawn. Owners of vehicles certified under ECS, which are not currently registered, should not take any action to re-certify their vehicles until the review is complete and owners of currently registered modified vehicles should note there are no changed to their ability to renew their vehicle's registration or to their vehicles registration status. We apologise for any inconvenience and expect to be able to provide customers with greater clarity and certainty on the issue shortly." Roads and Maritime Services, AIS Online, Friday 19 January 2018.
CHMC is in direct consultation with senior RMS staff to resolve the issues raised.
January 14 2018 FYI – Attention Club Secretaries and Registrars
AIS NOTICE 35, ENGINEERING CERTIFICATION SCHEME CERTIFICATES

.
A few days before Christmas the RMS distributed to all Authorised Inspection Stations AIS Notice 35, which stated that under the new Road Transport (Vehicle Registration) Regulation 2017, Roads and Maritime and Service NSW may no longer accept certificates issued under the former Engineering Certification Scheme (ECS) when establishing registration for a modified or individually constructed vehicle.
This resulted in an outbreak of concerned enquiries to the RMS, Service NSW, vehicle clubs and Council. CHMC, as did other peak groups in NSW quickly sought clarification from the RMS as the change could impact proposed CVS registrations from our Affiliated Clubs. CHMC received a prompt response from senior RMS personnel and we remain in consultation with them to resolve the ongoing implications of Notice 35.
AT THIS STAGE IT SEEMS UNLIKELY THAT AIS NOTICE 35 WILL IMPACT NEW HVS REGISTRATIONS for MOST GENUINE HERITAGE VEHICLES.
There have been some comments made in various forums alongside the Notice 35 discussions regarding LHD/RHD conversions – at this time RMS is in consultation with the peak bodies like CHMC over this matter. CHMC will, as usual, advise Clubs and Registrars as soon as we are authorised to do so by RMS of any outcomes that require their attention with regard to either Notice 35 or LHD/RHD conversions.