CHMC CLUBS
Council member Clubs are located throughout New South Wales
Member Clubs are autonomous and control their own internal affairs
These Clubs welcome enquiries for membership or information regarding heritage and historic vehicles and classic vehicles.
They organise regular events including driving tours, displays and community events.
They have members experienced in maintaining and restoring historic vehicles, and who will assist wherever they can to get a historic car, truck, motorcycle, tractor or antique farm machinery operating.
Each Club manages its own membership and facilitates Conditional Vehicle Registrations - either HVS with the TfNSW or CVS through CHMC
CHMC is an independent organisation and not controlled by any other peak body in NSW or Australia.
CHMC CLUBS
List of CHMC Clubs throughout NSW and their contact details
IS YOUR CLUB INTERESTED IN JOINING THE CHMC?
Membership enquiries are welcome from heritage and historic vehicle and antique machinery clubs in NSW whose goals include the preservation of vehicles more than 30 years old, whose objectives are compatible with those of the CHMC, and whose membership are owners or enthusiastsof heritage or historic vehicles or road-going machinery, antique farm machinery and tractors.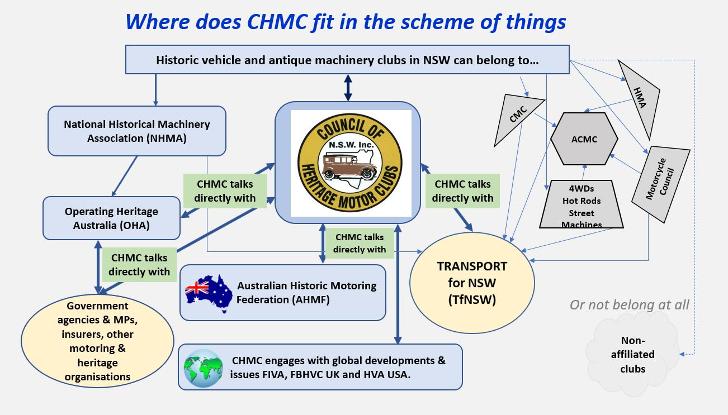 WHY JOIN the CHMC?
CHMC actively and very successfully represents heritage, historic and classic vehicle clubs to State and Commonwealth departments, other organisations and businesses in matters concerning the operation and preservation of Club member's vehicles.
CHMC's negotiates directly with those government departments and groups reflect the majority view of it's member clubs on such matters as vehicle registration schemes, vehicle safety, fuels and automotive transport history and heritage.
CHMC is well respected, credible and trusted by its membership, by government agencies, from the most senior staff to regional offices, and by other stakeholders in the heritage and historic vehicle sector across Australia.
CHMC is an energetic and long-time member of the national peak body the Australian Historic Motoring Federation.
If your club is interested in CHMC membership see our MEMBERSHIP PAGE and contact the

CHMC REGISTRAR

for a membership information package.