CHMC MEETINGS, FORUMS & WORKSHOPS
2023 ANNUAL GENERAL MEETING OF COUNCIL will be held in ARMIDALE on Saturday October 28th.
All CHMC clubs have been sent the Agenda
2023 GENERAL (1/2 yearly) MEETING of COUNCIL was held in conjunction with the 2023 CHMC ANNUAL RALLY in WAGGA WAGGA Friday June 9th at the Wagga RSL Club,30 Dobbs Street
2022 AGM OF COUNCIL was held at SINGLETON on Friday April 1st 2022 in conjunction with the 2022 CHMC Annual Rally
CHMC Committee actions during Covid lockdowns in the previous year were approved by the Delegates

7 clubs, from across NSW and covering a wide variety of historic vehicles, were welcomed to CHMC membership
Guest Speaker, Matt Cafe, TfNSW, Partnerships, on HVS and CVS matters
2023 Annual Rally to be hosted by Wagga Wagga Veteran & Vintage Car Club
2024 Annual Rally to be hosted by Parkes Antique Motor Club
2022 GENERAL MEETING (1/2 YEARLY) OF COUNCIL was held at TAMWORTH on Saturday 29th October 2022
2021 AGM OF COUNCIL was held at TEMORA on April 9th in conjunction with the CHMC's 2021 Annual Rally
Delegates, representing Affiliated Clubs from across NSW, confirmed the actions of the Committee, undertaken on Council's behalf over the preceeding year and during the Covid lockdown, and accepted the Reports of the Executive Committee and the Council's Officers.
A1/2 Yearly General Meeting was not held in 2021 due to Covid restrictions.
2020 AGM AND Half-Yearly GM were cancelled due to COVID-19 restrictions.
While we could not meet face-to-face Council's communications to its members were ramped-up to ensure all our clubs were were kept well informed of important matters relating to their historic and classic motoring, all clubs were sent vital and relevant information by email or post, and by phone when necessary, and via our bulletin, Dinkum Oil
2019 GENERAL MEETING (1/2 YEARLY) OF THE COUNCIL
HELD AT NEWCASTLE ON SATURDAY 26TH OCTOBER, 2019
RMS senior staff spoke on the Log Book Review, HVS vehicle compliance and

RMS website updates.

Council's collaborative partnership with the RMS was highlighted with details that CHMC clubs had played a strong role in the Log Book Review process with not only major representation in the online survey but also in the Focus group meetings. (Particularly significant when one considers the distances most of our club's representatives had to travel for those meetings)

Delegates unanimously supported the Committee's recommendation that

$1,000 be donated to the CWA NSW's Disaster Relief Fun

d

for

drought aid.
2019 agm OF THE CHMC
WAS HELD at GRIFFITH
ON

MAY 17TH 2019
IN CONJUNCTION WITH THE
HVS & CVS REGISTRATION WORKSHOP NOVEMBER 4TH 2023 - DUBBO
This workshop is open to representatives from all clubs in NSW providing HVS or CVS registration opportunities to their members, not just clubs affiliated with CHMC, HMA or CMC. The purpose of the meeting is to update and inform clubs on the HVS and CVS schemes and on Logbooks.
CHMC ran similar workshops this year in Ballina and Cooma, these are always well received providing clubs with:
• consistency and accuracy in conditional registration information, and
• opportunities to have their HVS and CVS queries accurately responded to.
The Workshop will be addressed by members of the TfNSW team that oversees the HVS and CVS schemes. They will also speak to local road toll issues and road safety.
The day will follow our usual Panel format, with Peter Wright (CHMC) and Phil Mudie (HMA) as the industry representatives and the TFNSW team in the Panel. Phil will be our moderator for the day.
There will be a FAQ session – CHMC clubs are invited to send questions they'd like put to the Panel to our Registration Liaison Officer, Peter Wright pjwright18@bigpond.com by Oct 25th.
Venue: Starlight Room, RSL Club, Dubbo. Access to the building from 09.30
Agenda:     
• 10.00 Meeting Start
• Welcome
• Introduction of Panel members
• Towards Zero program - safety and local road toll issues
• 11.15 to 11.30 Morning tea break
• FAQ Session
• Questions from the floor
• 12.30 approx. Meeting Close       
RSVP: We ask that no more than 5 members of any one club attend. To assist with catering etc. clubs please advise their intended numbers to: Phil Mudie: 0407 034 484 or email philipmudie@hotmail.com.
WORKSHOP - may 2, 2023 - ballina
CHMC and the Ballina Classic Vehicle Club organised a HVS & CVS Workshop with Matt Cafe, Manager, Partnerships TfNSW, for ALL historic vehicle clubs on the far north coast, non-member as well as CHMC member historic vehicle clubs in the region.
CHMC received many compliments and thank you's for a workshop were so much useful and accurate information was provided to clubs
CHMC WORKSHOPS & FORUMS
"VERY PROFESSIONAL WORKSHOP LED BY EXPERIENCED PEOPLE IN THE HOBBY"...."A LOT OF VALUABLE TIPS AND INFORMATION"....."VERY RELEVANT TO OUR CLUBS AND WELL PRESENTED"
Council conducts these events, either face-to-face and online, for large groups or for clubs. Scheduling larger group workshops is often determined by the availability of external speakers, e.g. from TfNSW, etc., if these speakers are required. However, Council works diligently to fulfill all requests from clubs and regions for information meetings, workshops and forums. If your club would like to host a CHMC Workshops or Forum, or suggest a topic for future workshops or forums, please contact the CHMC Secretary
HVS & CVS REGISTRATION August 2022 Ourimbah
CHMC's HVS / CVS Registration Forum at Ourimbah. A fully booked out event with Club rep.s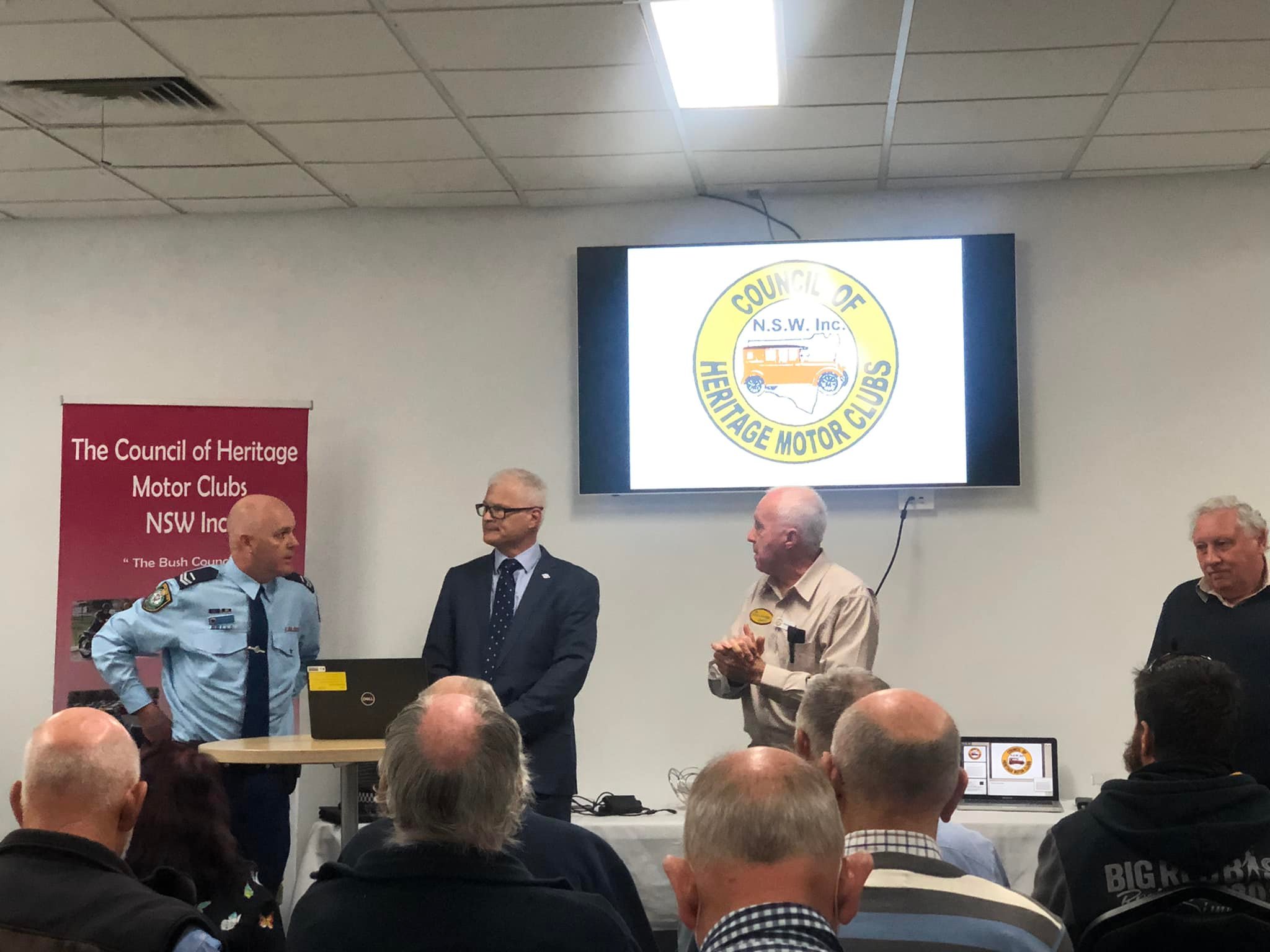 coming from the Illawarra, Northern Rivers, Central Coast, Hunter, New England, Central West and Sydney. Council was pleased to have Matt Cafe, TFNSW Manager Partnerships, and Steve Richards, NSW Police, present to discuss registration matters and developments, and answer delegates questions, along with our own Liaison Officer to TFNSW, Peter Wright. Notes from the OurimbahForum can be downloaded above
CHMC'S 2021 WORKSHOPS,

DESPITE COVID,

WERE VERY SUCCESSFUL
CHMC CLUB GOVERNANCE / HVS & CVS WORKSHOPS
The Workshops covered the latest information for sound club management - covering Constitutions, General Management, Taxation; Effective Communications; and Managing

Club Responsibilities for Historic Vehicle Registration and Classic Vehicle Registration, finished with a Q&A Session
Workshops were held at Cowra, Taree and Tamworth
and presented by members of the CHMC Committee to representatives from
CHMC Clubs and
clubs applying for CHMC membership.
As with Council's previous information days the data provided and the discussions generated were invaluable to all clubs present.

More face-to-face workshops were planned for later in 2021, Covid unfortunately prevented them taking place. So we moved to online workshops.
VIRTUAL HVS / CVS REGISTRATION ONLINE MEETINGS
As there were many rumors and misinformation circulating in the hobby
about the

operation of the

HVS & CVS

Schemes, such as renewals and new rego.s, whilst the State was under Covid Health Orders, CHMC arranged several online meetings at which

the facts,

as advised directly to Council by TfNSW, were presented.
Discussions covered the appropriate processes for renewing HVS and CVS registrations during lockdowns, and options for clubs seeking to hold vehicle inspection days with local Police cooperation.
The information provided by Council's
Liaison Officer, Peter Wright, gave the club representatives accurate instructions

for their members.
All our online meetings were booked out.