HISTORIC AND HERITAGE MOTORING & MACHINERY EVENTS
AMERICAN INDEPENDENTS DAY
10 July Guildford
Gates open 8:00am. Vehicles requested to be in place by 9:00am.
Lynwood House, 25 Byron Road Guildford Featuring vehicles NOT from the Big 3 US vehicle manufacturers. Garage Sale (no clothing or shoes) - all proceeds to the historic house. Stallholders: Various arts & crafts. Food and drinks available. A small donation will be collected to enter the event.
ALL FRENCH CAR DAY 17 July, Silverwater
The Sydney All French Car Day , as approved by Parramatta Council, with social distancing and a Covid-safe plan, at Silverwater Park from 9 am. Enter from Clyde St East and loop under Silverwater Rd. This is the same venue as in previous years.
Entry is $10 per display vehicle.
It will be held under prevailing covid conditions.There will be a QR code, and as an outdoor area there is plenty of room to socially distance yourselves from one another. We would expect that anyone who is unwell will not attend.
ALL FORD DAY 24 July Eastern Creek
Due to a conflicting event booking at the Dragway, the All Ford Weekend has been pushed forward one week to Saturday 23rd and Sunday 24th of July 2022.
The day is a "NO ALCOHOL" event and is open to the whole family. We have plenty of activities and rides for the kids to enjoy, including face painting and pony rides. See some of the best original Ford vehicles in the country alongside some amazingly restored and modified examples. Talk to members from the various car clubs that make up The Combined Ford Clubs of N.S.W. Check out all the trade stands as well, you just might find that elusive spare part for your Ford project. Further details - All Ford Day website
STEAMFEST 2022 31 July Maitland
Show 'n' Shine
An annual feature of Steamfest, the Show 'n' Shine is a spectacular display of motoring history. 9am-3pm. Maitland Park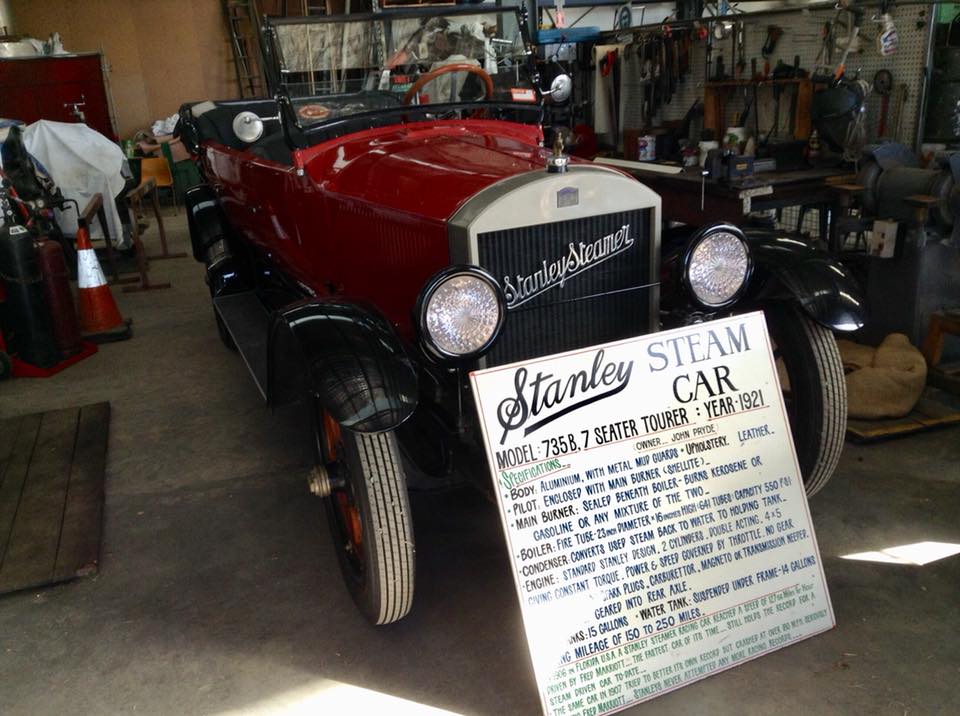 Display entry $10 per car. All proceeds to Firstchance.
-Steamfest https://www.steamfest.com.au/
HUPMOBILE NATIONAL RALLY 31st Aug – 4 Sept Wagga Wagga
20th National Hupmobile Tour. For more information contact GN & CM Rainbird email: cmr929497@gmail.com or post 52 King Street, The Rock, NSW 2655
2022 CLARENDON CLASSIC RALLY 17-18 September, Clarendon
The Sydney Antique Machinery Club extends an invitation to members of your club to display at our annual "Clarendon Classic" Rally on 17th and 18th September at the Hawkesbury Showground, Clarendon. Setup is on Friday 16th from 8.00 am. The event will feature all kinds of antique and vintage machinery including stationary engines, tractors, trucks, cars, motorcycles, boats, steam power, and model and hobby displays. This year's themes are "100 Years of Lanz Bulldog," "150 Years of Thornycroft" "75 years of Grey Fergie" and all "International engines" but all exhibits are most welcome.
Exhibitors are welcome from all clubs, and registration is compulsory, when proof of insurance is required. SAMCI can, however, accept uninsured exhibitors for a fee of $15 for the event.
We hope to have a welcome BBQ for exhibitors on the Friday night, cost $10.00 per person and a dinner on the Saturday night cost $25.00 per person, children $10.00, with numbers limited and pre-booking essential. See the Registration and Booking form for details on our website closer to the event. Please complete and send in these beforehand.Free onsite camping is available for exhibitors, also powered sites with a charge of $10.00 per night for the Friday, Saturday and Sunday nights. There is onsite security for the protection of yourselves and your treasures. Please note: the Showground is an alcohol free area, and open fires are totally banned. Dogs are permitted on leashes only. Please feel free to contact our Event Organizer, Steve Muscat, on 0418 453 203 for additional information, or visit our website: www.sydneyantiquemachineryclub.com
AUTOMOTIVE HISTORIANS AUSTRALIA 2022 CONFERENCE 17-18 Sept
'Wheels Across the Pacific: Transnational Histories of the Automotive Industry'.

Automotive Historians Australia will host our 6th annual conference on Saturday 17th (US time) /18th September (Aus. Time) 2022, online and in person.This symposium is co-convened with the Society of Automotive Historians (USA) and will cover transnational histories of the automotive industry, shared histories that extend or go beyond national boundaries. The symposium is the first of what we hope will be ongoing collaborations between Australian and American automotive historians. The event program will take into account the time differences between the two countries.
Please consider presenting a talk on the theme - 'Wheels Across the Pacific: Transnational Histories of the Automotive Industry'. We seek presentations and papers from motor history enthusiasts.
We recognise that the auto industry has, from the late 19th century been a global enterprise although that aspect of its history is often submerged in a national story. Hence, we are looking for presentations and papers that explore ways in which the Australian and American auto industries shared expertise, skills, design and studio practices, engineering, people, business structures and management paradigms, advertising, parts and trade practices such as tariffs.
Abstracts of 200 words outlining the theme of your proposed paper should be sent to the AHA conveners by 30 June 2022. Note that final presentations will just be 15-20 minutes in length.
Abstracts should be in Word format with the following information and in this order:
a) author, b) affiliation as you would like it to appear in programme, c) email address, d) title of proposal, e) body of proposal.
Emails should have in the subject heading: 'Wheels Across the Pacific: Transnational Histories of the Automotive Industry - Abstract Submission', and be submitted to: conference@autohistoriansaustralia.org
Conveners: Dr. Norm Darwin, PhD. President AHA; Harriet Edquist, AHA; Skip McGoun, SAH; Simon Lockrey, AHA. Further information: https://www.autohistoriansaustralia.org/
NATIONAL MODEL T RALLY 25 Sept-1 Oct Dubbo
Sponsored by the Model T
Ford Club of Australia (NSW) Inc.
Website: www.modeltfordclubnsw.org.au Email: rally20t2@gmail.com
PARKES 44th ANNUAL MOTORCYCLE RALLY 1 - 3 October, Parkes
HERITAGE AND MODERN MACHINES ELIGIBLE.
CONTACT: Bruce Danson 04 5854 1133 Alan Curteis 02 6862 5848. Entry closing date - Monday 26th September 2022 at PO BOX 476 PARKES NSW 2870. Hosted by CHMC Affiliated Club - Parkes Antique Motor Club
Download entry form and rally details below:
PARKES MOTOR MUSEUM Pre-1951 RALLY October 4-7 2022, Parkes
Celebrating 50 years of the PARKES MOTOR MUSEUM
A RALLY FOR VETERAN, VINTAGE AND POST-VINTAGE VEHICLES MADE BEFORE 1951 (VEHICLES MUST BE ELIGIBLE FOR NSW HVS)
Book your accommodation now.
Hosted by CHMC Affiliated club - Parkes Antique Motor Club
Download Entry Form and details below:
NATIONAL VETERAN VEHICLE RALLY 23- 28th October Busselton WA
For all road going vehicles built before 31 December, 1918. For more information visit the website https://veterancarclubofwesternaustralia.wildapricot.org/2021-National-Veteran-Rally
or email busso2021@gmail.com
FIVA WORLD MOTORCYCLE RALLY

10 - 14 MAY 2023, AUSTRIA
Hosted by by the Austrian Motor Veterans Club (ÖMVC) and RallyeOrg and has the motto "100 YEARS - TOURIST TROPHY (T.T.) AUSTRIA".
Around 100-150 guests from Austria and abroad are expected to revive the spirit of this legendary event. The start and finish of the rides over the famous Höhenstrasse and to Semmering will be in Brunn am Gebirge every day. Friday will be dedicated to the Wiener Höhenstraße and Wienerwald with its unique views of the city. As part of the ride there, there will also be T.T. rides from 1925 on some sections of the route. Between 1899 and 1933, the legendary Semmering race took place with large motorbike participation. Participants will ride on much of the original route. The Semmering and the city of Vienna are UNESCO World Heritage Sites. On Saturday, 13 May 2023, the center of the event will be Breitenfurt with a round trip following the legendary T.T. route.
The aim is to offer a very interesting program for national and international guests, in order to revive the spirit of historic motorbike events, embedded in the great architectural, geographical and cultural diversity of Austria. It is a touristic classic motorcycle tour for motorcycles and sidecars up to and including year of construction 1983 or older, with start and finish in 2345 Brunn am Gebirge. To register for the Rally: https://world.rallyeorg.at/en/register
Details: FIVA World Motorcycle Rally 2021