HISTORIC AND HERITAGE MOTOR & MACHINERY EVENTS
CORONAVIRUS COVID-19 -
IN RESPONSE TO THE pandemic CLUBS CANCELled OR RE-SCHEDULed EVENTS, WHERE POSSIBLE.
WHEN COUNCIL IS NOTIFIED OF NEW DATES FOR EVENTS WE WILL INCLUDE ON THIS PAGE
WHEN THE COVID-19 SITUATION IMPROVES CLUBS, and the towns and cities they are in, will WANT YOU TO COME TO THEIR RALLIES and events TO ENJOY AND SHARE OUR AUTOMOTIVE HERITAGE, SO CHECK IN REGULARLY TO SEE WHAT EVENTS ARE PLANNED FOR LATER THIS YEAR AND in 2021

.
SCROLL DOWN THIS PAGE

FOR EVENTS A

s a service to community and other motoring organisations promoting heritage and historic vehicles

CHMC also includes information on their events on this page.
FRIDAY 4TH- SUNDAY 6TH SEPTEMBER PRE-31 TOUR - DUBBO
The Autumn Tour postponed from May will be held in September. In time for the the start of Spring. Existing entries from May will be kept for the September event, unless DAAC is advised otherwise and a refund arranged.
NEW Entries will be accepted up to 21st August, 2020.
Looking forward to meeting up again in September. Ginny Mather, Rally Secretary for the Pre-1931 Rally Committee.
Enquiries: Pre-31 Tour Secretary daac2830@gmail.com DAAC Facebook page: https://www.facebook.com/DAACInc/
Pre-31 Autumn Tour for Veteran and Vintage vehicles hosted by Dubbo Antique Automobile Club, an Affiliated Club of the CHMC
3 - 5TH OCTOBER 2020 - PARKES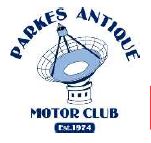 HERITAGE AND MODERN MACHINES ELIGIBLE

RALLY HEADQUARTERS at HENRY PARKES CENTRE Newell Highway, PARKES
CONTACT: Bruce Danson 04 5854 1133 Alan Curteis 02 6862 5848
CLOSING DATE FOR ENTRIES Monday 28th September 2020 at PO BOX 476 PARKES NSW 2870 Entry Forms available from parkesantiquemotorclub@gmail.com
Hosted by Parkes Antique Motor Club, an Affiliated Club of the CHMC
19th OCTOBER 2020 - PARKES
26TH ANNUAL SWAP MEET in conjunction with CENTRAL WEST CAR CLUB SHOW 'N SHINE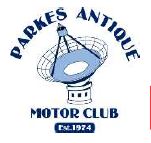 GATES OPEN 6 AM Pioneer Oval, Alexandra Street Parkes
CONTACT: Alan Curteis 02 6862 5848 Phil Dixon 0419 888 695
Hosted by Parkes Antique Motor Club, an Affiliated Club of the CHMC
7-8 November 2020 - DUNGOG
Dungog Weekend of Music
Take a great drive in the countryside to a beautiful destination with an amazing few days of music, food and wine. Escape with the Australian String Quartet to the charming shire of Dungog,
— gateway to the stunning, heritage-listed Barrington Tops National Park.
More details: https://asq.com.au/whats-on/dungog-festival-of-music-new-south-wales-2/
MARCH 26 - MARCH 28 - 2021 SHOW & SHINE - Kurri Kurri Nostalgia Festival
Rock n Roll, Classic Cars, Fashion, Music, Dancing and everything good about the 50's and 60's. Retro Market Stalls.SHOW & SHINE - two days of historic and classic cars lining the streets around Rotary Park in Kurri Kurri's town centre.
Show & Shine Co-ordinated by All Shook Up Car Club, an Affiliated Club the CHMC
APRIL 9-12 2021 CHMC ANNUAL RALLY - TEMORA

The CHMC Annual Rally is held each year in a different NSW regional centre and hosted by the local CHMC club/s. Temora Antique Motor Club hosted our very successful 2016 Rally at which over 120 heritage motor vehicles from a 1911 Cadillac and 1911 Ford Model T to a 1986 Volvo, were gathered with scores of veteran, vintage, post vintage and historic cars from the 1940s to the 1980s.
Temora Club are our Hosts for Council's 2021 Annual Rally, so mark the dates in your calendar – Friday 9th - Monday 12th April 2021 (with the option for early registration on Thursday 8th) and download and send in quickly your Rally Entry Form. Limited to 100 entries. Accommodation in Temora is limited too – we suggest you book early.
Hosted by Temora Antique Motor Club, an Affiliated Club of the CHMC