HISTORIC AND HERITAGE MOTOR & MACHINERY EVENTS
EVENTS ARE HELD THROUGHOUT NSW MOST WEEKENDS, THIS IS A PARTIAL LISTING, UPDATED REGULARLY - check back for new events
SCROLL DOWN THIS PAGE for events for owners and enthusiasts, and where often the public can view heritage, historic & classic vehicles and antique machinery.
All CHMC Affiliated Clubs arrange their own regular events for members and guests, and prospective members are always welcome. To enquire about other Club events - rallies, tours, swap meets, displays and meetings held in your area please contact your local CHMC Club/s - a list is available on our CLUBS page
As a service to community and other motoring organisations promoting heritage and historic vehicles CHMC also includes information on their events on this page.
S.C.V.C.Club's 50th Anniversary Display Day - 13th OCTOBER
Black Beach Reserve - Sunday 13th October 2019
From 10am, gates will be open at 9.30am
South Coast Vintage Car Club is an Affiliated Club of the CHMC.
Enquiries www.southcoastvintagecarclub.org.au
AUTOMOTIVE HISTORIANS AUSTRALIA – CONFERENCE 18-20 October 2019 - RMIT MELBOURNE
'THE JOY OF MOTORING'
For the 2019 conference there will be research-based talks and less formal presentations on motoring and automotive culture. Presenters will include those whose experiences encompass owning, racing, designing, restoring or building an automobile, and researchers who have focussed on the automotive industries, the influence of the automobile and m motoring culture in Australia
Conference Programme, tickets etc. on the AHA WEBSITE: http://www.autohistoriansaustralia.org/conference-2019
PARKES 26TH ANNUAL SWAP MEET - sATURDAY 19 october 2019
Pioneer Oval, Alexandra street, Parkes.
Gates open 6.00am. Site holders entry from 2pm Friday.
Details from Alan 02 6862 5848 or Phil 0419 888695
Hosted by the Parkes Antique Motor Club, an Affiliated Club of the CHMC
CLASSIC RIDERS CLUB OF GOULBURN ANNIVERSARY RALLY - 26-27 OCTOBER 2019
CRCG invites entries for their 28th Annual Classic Ride for Veteran, Vintage, Classic and Modern motorcycles.
Classic Riders Club of Goulburn Inc is an Affiliated Club of the CHMC
AHMF 2020 NATIONAL MOTORING FESTIVAL - ALBURY
March 28 to April 3 2020
More details see AHMF 2020 National Motoring Festival
"I DON'T WANT TO GO HOME" RALLY
TEMORA APRIL 4-7th 2020

Enjoy this Rally as a follow-on from the AHMF 2020 at Albury, Temora invites rallyists to extend their journey homewards with a few days in Temora.
Or
as a stand-alone Rally for historic vehicle enthusiasts to take a few days enjoying the hospitality of the Temora Antique Motor Club.
Hosted by Temora Antique Motor Club, an Affiliated Club of the CHMC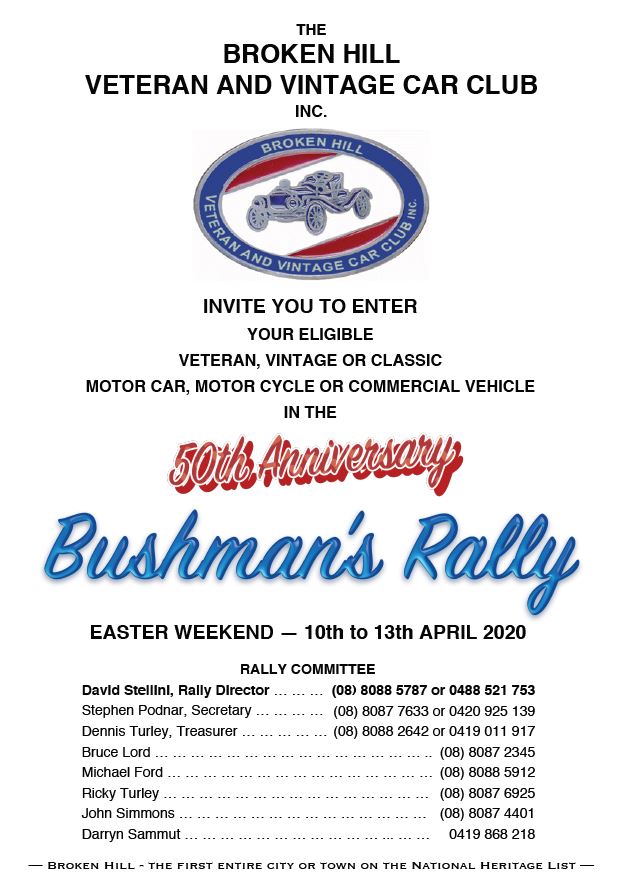 BHVVCC 50th ANNIVERSARY
BUSHMAN'S RALLY
EASTER 2020 10-13TH APRIL
Hosted by Broken Hill Veteran & Vintage Car Club, an Affiliated Club of the CHMC
Download Rally Information and Entry Form:
Enquiries: David - 0488 521 753 or Stephen 0420 925 139
MORRIS REGISTERS OF AUSTRALIA NATIONAL RALLY 2020
10-13TH APRIL 2020 RIVERLAND RAMBLE
Hosted by the Morris Register of South Australia at Berri.