HISTORIC AND HERITAGE MOTOR EVENTS
EVENTS ARE HELD THROUGHOUT NSW MOST WEEKENDS, THIS IS A PARTIAL LISTING, UPDATED REGULARLY - check back for new events
SCROLL DOWN THIS PAGE for events for owners and enthusiasts, and where often the public can view heritage, historic & classic vehicles and antique machinery.
All CHMC Affiliated Clubs arrange their own regular events for members and guests, and prospective members are always welcome. To enquire about other Club events - rallies, tours, swap meets, displays and meetings held in your area please contact your local CHMC Club/s - a list is available on our CLUBS page
As a service to community and other motoring organisations promoting heritage and historic vehicles CHMC also includes information on their events on this page.
TRANGIE TRUCK & TRACTOR SHOW
17 AUGUST 2019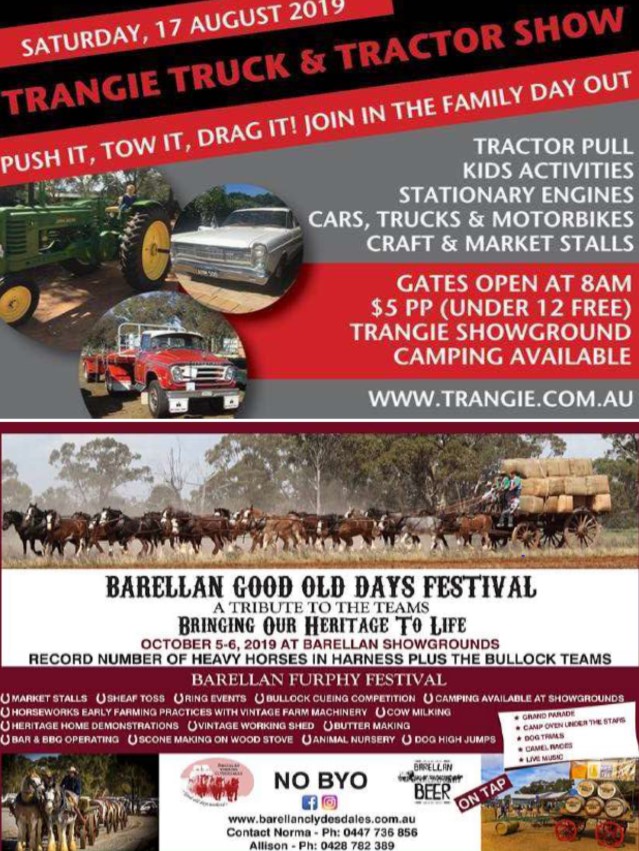 COOTAMUNDRA SWAP MEET - 1 SEPTEMBER 2019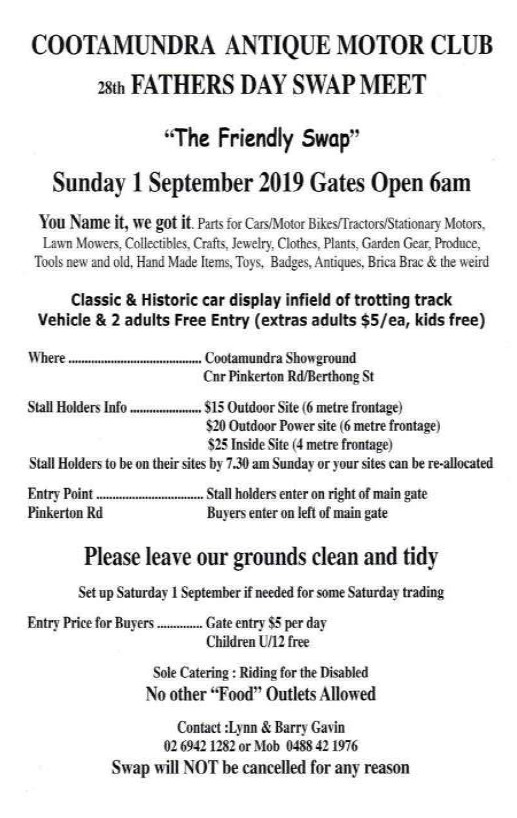 MINI MUSTER - CARINA, SOUTH BRISBANE 8TH SEPTEMBER 2019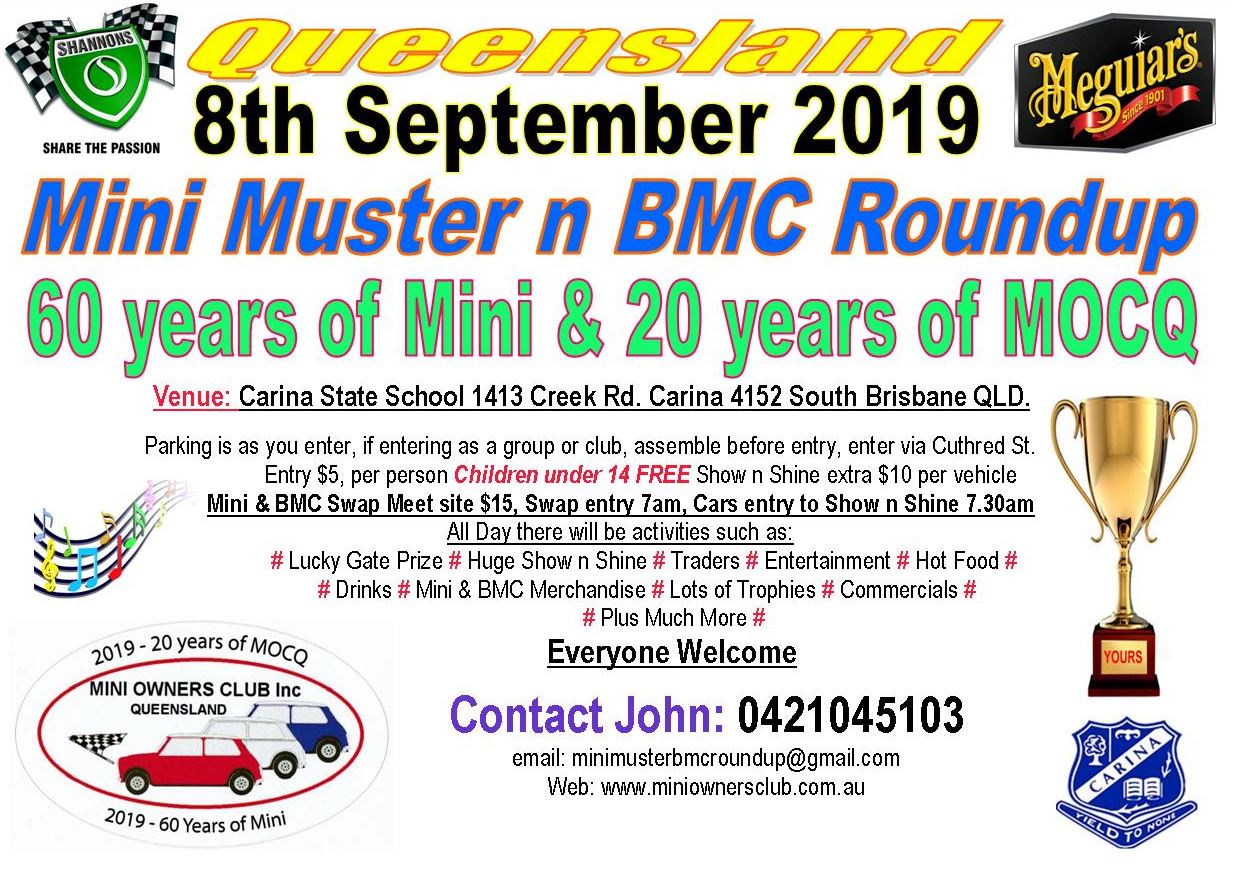 ALL BRITISH DAY 15 SEPTEMBER 2019 - THE KINGS SCHOOLS, NORTH PARRAMATTA
The largest gathering of heritage and historic British-origin vehicles in NSW. Lots to see - vehicles from The Association of British Car Clubs.
AUSTINS OVER AUSTRALIA - sept 23-27 2019, barossa valley
Hosted by Austin 7 Club of SA. Entry Forms and Event Newsletters https://austin7clubsa.com.au/club-info/austins-over-australia-2019/
Further information : Event Chairperson - David Grear dgrear@optusnet.com.au or Event Secretary - Ralph Drage rdrage@bigpond.net.au
MODEL T FORD NATIONAL RALLY - MARYBOROUGH Sept. 29 - Oct 5th 2019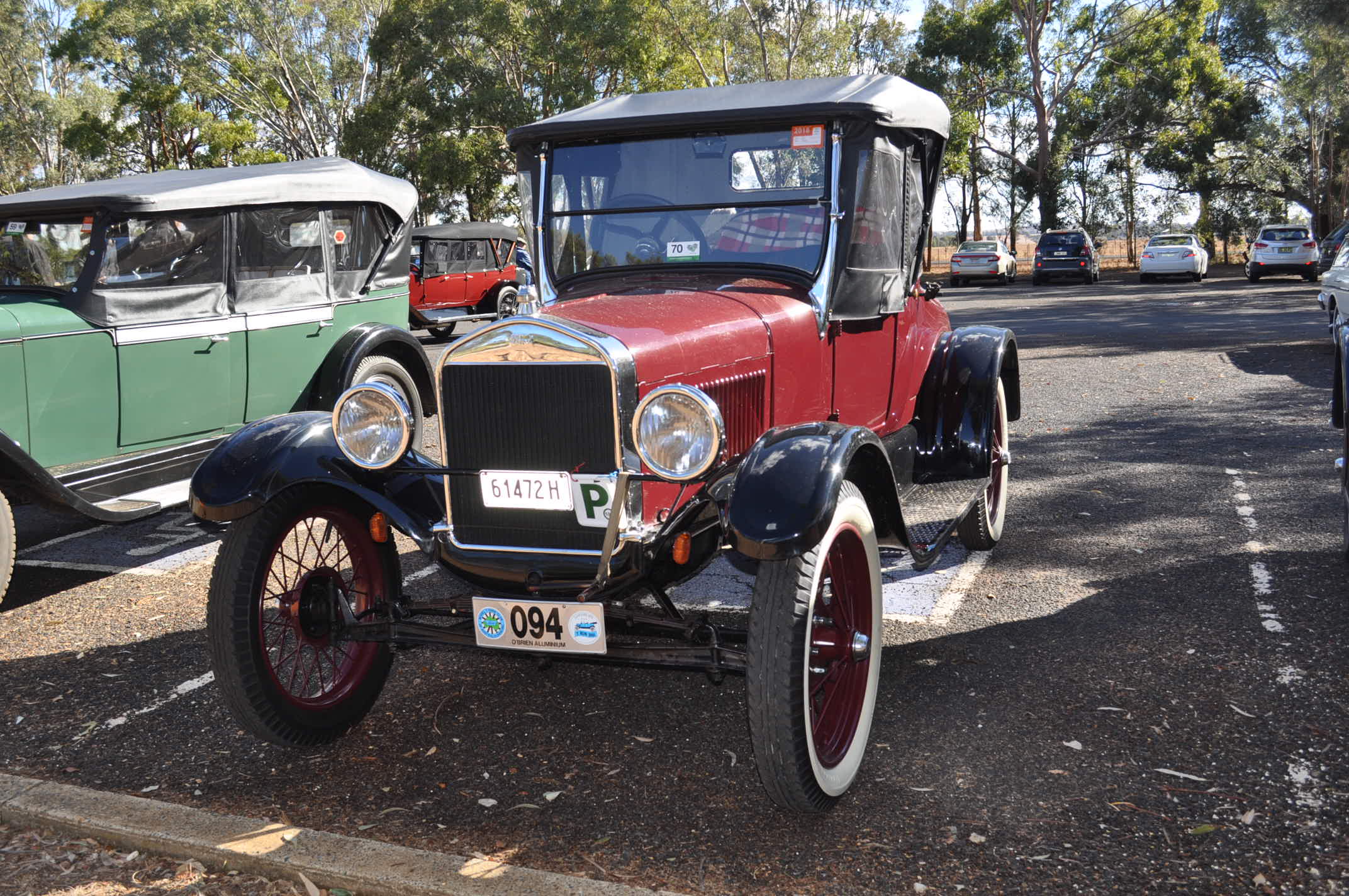 All Model T enthusiasts are invited to join us for a week of crisp country, beautiful beaches and heavenly heritage. So save the date and.....and Pop into Maryborough
Hosted by Model T Owners Queensland Inc. (MTOQ) Telephone (07) 32194192 Email: popintomaryborough2019@hotmail.com
Postal: PO Box 1282, Carindale, Qld 4152
Website: http://mtoq12.wixsite.com/mtoq/2019-national (for Entry forms and further information)
43rd ANNUAL MOTORCYCLE RALLY - 5-7 OCTOBER 2019 - PARKES
HERITAGE AND MODERN MOTORCYLES ELIGIBLE.
INFORMATION: ALAN 02 6862 5848 Entry forms from parkesantiquemotorclub@gmail.com
Hosted by the Parkes Antique Motor Club, an Affiliated Club of the CHMC
AUTOMOTIVE HISTORIANS AUSTRALIA – CONFERENCE 18-20 October 2019 - RMIT MELBOURNE
AUTOMOTIVE HISTORIANS AUSTRALIA INVITE SUBMISSIONS FOR PAPERS FOR THEIR FOURTH CONFERENCE, TITLED 'THE JOY OF MOTORING'
For the 2019 conference, AHA welcomes both formal academic papers and less formal presentations, in any format which reflect generally on motoring and automotive culture. They particularly seek contributions that derive from the experience of owning, racing, designing, restoring or building an automobile (or motorcycle), experiences that often rely on tacit knowledge accrued over a long period of time which remains hidden and is never recorded.
CALL FOR PAPERS AND OTHER INFORMATION CAN BE VIEWED AND DOWNLOADED AT THE AHA WEBSITE: http://www.autohistoriansaustralia.org/conference-2019
PARKES 26TH ANNUAL SWAP MEET - sATURDAY 19 october 2019
Pioneer Oval, Alexandra street, Parkes.
Gates open 6.00am. Site holders entry from 2pm Friday.
Details from Alan 02 6862 5848 or Phil 0419 888695
Hosted by the Parkes Antique Motor Club, an Affiliated Club of the CHMC
CLASSIC YASS - NOV 2 2019
Banjo Paterson Park, Riverbank Park - Yass. The event features a huge Motor Show of Classic Cars, Motorcycles and Historic Racing Cars.
For further information contact: Yass Antique Motor Club 0408 632 492
Hosted by Yass Antique Motor Club, an Affiliated Club of the CHMC
AHMF 2020 NATIONAL MOTORING FESTIVAL - ALBURY March 28 to April 3 2020
More details see AHMF 2020 National Motoring Festival
"I DON'T WANT TO GO HOME" RALLY TEMORA APRIL 4-7th 2020

This Rally could be follow-on from the AHMF 2020 at Albury, inviting rallyists to extend their journey homewards with a few days in Temora.
Or
as a stand-alone Rally for historic vehicle enthusiasts to take a few days enjoying the hospitality of the Temora Antique Motor Club.
Hosted by Temora Antique Motor Club, an Affiliated Club of the CHMC
MORRIS REGISTERS OF AUSTRALIA NATIONAL RALLY 2020
10-13TH APRIL 2020 RIVERLAND RAMBLE
Hosted by the Morris Register of South Australia at Berri.